Peter Herbert
* 29.2.1960 Bludenz/Vbg, lebt in Wien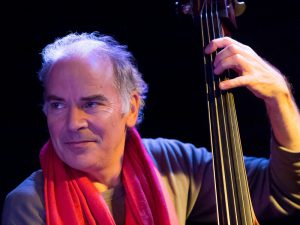 +43 (650) 485 34 21
peter@peterherbert.at
www.peterherbert.at
Biografie
Kompositionsstil
Werkliste
Tonträger
Texte
Biografie
Ausbildung
Mit 8 Jahren erster Klavierunterricht
1976-1978 Konservatorium Bregenz: Kontrabass
1981 -1986 Musikuniversität Graz, Jazz
1987-1989 Studium am Berklee College of Music Boston, Diplom im Fach »Bass Jazz Performance«
Tätigkeit
1985 ein Jahr lang »freelancing bassist« in Wien, seit 1987 freischaffender Musiker in New York, seit ca. 1993 hauptsächlich Realisierung eigener Projekte: Multimedia-Installationen, Theatermusik, Entwerfen musikalischer Strategien, Studiomusiker; als Bassist Konzerte, Performances und Studioarbeiten. Gastdozent bei workshops in Groznyan/Slowenia, den Konservatorien Innsbruck, Linz und Feldkirch,dem Jazzseminar Dornbirn und den Sommer-workshops in Neuberg/Austria (1991/1995), Viktring (1995/1996/2002/2003) und St. Georgen a. Walde (1995/1996/1997/1998), "outreach-Schwaz" (2001/2002), Fachhochschule Dornbirn 1998 (Lehrauftrag in Akustik) & 2002, Int. Jazzseminar Salzburg (1998/1999//2001/2002/2003), Happeranda/Schweden mit Mick Goodrick 1996, Cornish College of the Arts in Seattle 1997 (mit Marc Copland, John Abercrombie und Billy Hart), sowie Unterricht an diversen Highschools in Pennsylvania mit dem Andy Middleton Quartett 1995, wie auch 2002 am National Conservatory of Music/Bir-Zeit University Jerusalem/Israel. Seit 2007 unterrichtet Peter Herbert am JIM der Anton Bruckner Privatuni in Linz eine kleine Kontrabassklasse.
Auszeichnungen
1979 Erster Preis bei Jugend musiziert (als Pianist), 1988 Erster Preis beim Musicfest in Orlando/Florida mit dem Wolfgang Muthspiel Trio (veranstaltet vom Magazin Down Beat), Erster Preis beim ersten österreichischen Jazzwettbewerb mit dem Wolfgang Muthspiel Trio, Solopreis beim ersten österreichischen Jazzwettbewerb für außergewöhnliches Solieren, 1989 Eddie Gomez Jazz Masters Award vom Berklee College of Music, Achievement Award der Boston Jazz Society für außergewöhnliche künstlerische Fähigkeiten im Jazz, 1993 Förderungspreis des Landes Vorarlberg als Komponist, 1997 Filmmusik zu dem Dokumentarfilm "Dokumentation einer Unzweckmässigkeit" von Gerhard König: (1. Preis in der Kategorie "Bergfilm" und 2. Preis in der Gesamtwertung beim Filmfestival in Trento 1996; 1. Preis in der Kategorie "Bergfilm" fuer denselben Film beim Filmfestival in Hof/Deutschland 1997; 1. Preis in der Kategorie "Bergfilm" beim Filmfestival in St. Anton a.A. Sept. 1997; Spezialpreis des internationalen olympischen Kommittees beim Filmfest in Poprhat/Tschechoslowakei Sept. 1997); 1997 Int. Bodenseekulturpreis für Musik; 2001 Hans Koller-Preisträger ('Musiker des Jahres'); 2022 Kompositionspreis des Landes Vorarlberg.
Aufführungen
Peter Herbert ist auch als vielseitiger Komponist tätig mit Arbeiten für verschiedene Orchester und Kammermusikensembles (Cascabel/NYC, Absolute Ensemble,NYC, Janus ensemble/Wien, Vorarlberger Symphonieorchester, ensemble plus/Bregenz, etc.), aber auch Film- und Theatermusik (Aktionstheater ensemble/Wien,K.L.A.S. Kärnten, La Voz Festival of the Americas/Santa Fe/New Mexico u.a.).1999 etablierte er sein eigenes Internet Plattenlabel "Aziza Music"
Künstl. Arbeit im Bereich Jazz und Jazz-verwandte Musik mit:
Konzerte/Aufnahmen in Europa, den US, Japan, Nordafrika und dem Mittleren Osten mit Marcel Khalife (2000 – present), Chris Culpo Trio (2003-present), Serge Forté Trio (2002-present), Marc Copland/John Abercrombie Quartet mit Billy Hart (97-99), Bobby Previte's "The Horse" (95-98), dem Vienna Art Orchestra unter der Leitung von Mathias Rueegg (92), der Aydin Esen Group (89-96), dem Wolfgang Muthspiel Trio (86-89), Christian Muthspiel "Motley Mothertongue" (seit 96), dem Art Farmer Quintet (in NYC 91/92), Art Blakeys Jazzmessengers (86), dem Tone Jansa Quintett feat. Woody Shaw (85/86), Paul Smoker/Phil Haynes "Double Trio" (91) und Auftritte mit Musikern wie Sheila Jordan, Kenny Drew, George Garzone, Alex Deutsch, Mick Goodrick, Lewis Nash, Joe Calderazzo, Mordy Ferber, Tom Rainey, Joe Diorio, Tony Trishka, Tom McKinley, Jeff Williams, Bob Moses, Fred Hersch, Jerry Bergonzi, Kenny Werner, Richie Beirach, John Clark, Robin Eubanks, Richie Cole, Peter Erskine, Gene Jackson, Marc Copland, John Abercrombie, Billy Hart, Christine Tobin, Phil Robsen, Kenny Wheeler, Daniel Humair, Steve Shehan, Jamey Haddad, Skuli Sverrisson, Theo Bleckmann, Paul Simon, Franz Koglmann, Andy Manndorff, Wolfgang Reisinger, Lucas Niggli, Niels Wogram, Hannes Löschel, Klaus Dickbauer, Steve Lacy, Christoph Kurzmann, Philip Jeck und vielen anderen mehr.
Kompositionsstil
Peter Herberts kompositorischer Ansatz läßt sich von zwei Gesichtspunkten ableiten: erstens Musik zu schreiben, die von der improvisatorischen Seite her kommt, das heißt Musik umzusetzen, die man (selbst) hört und als improvisierender Musiker ad hoc umsetzen würde, quasi als Spieler zu komponieren, und zweitens Musik zu schreiben, die den Ausführenden auch Spaß macht zu spielen, auch das wieder mit Referenz darauf, selbst ein Interpret zu sein. Auch die Integrierung von improvisierten Passagen in oder über durchkomponierte Strukturen ist ein wichtiger Aspekt. Einflüsse im weitesten Sinne von Charles Ives, Gunther Schuller, Morton Feldman, George Crumb, Luigi Nono, Aydin Esen und Frank Zappa.
(vgl. dazu: Musik aus Österreich, hrsg. von Bernhard Günther, 1997)
Werkliste
Bab. (built a basson) 2015
für Fagott und Kontrabass
Dauer: 14′
UA: 7.11.15 bei 'Texte & Töne', ORF Landesstudio Dornbirn, Katharina Felder, Fagott; Peter Herbert Kontrabass
Trans Magreb, 2014
für eine arabische Sängerin, vier tiefe Stimmen, Chor, Ensemble, Trio mit arabischen Instrumenten und Video
Libretto: Hans Platzgumer
Dauer: 90′
UA: 21.8.2014, Bregenzer Festspiele, Werkstattbühne. Musikalische Leitung: Benjamin Lack; Regie: Ran Arthur Braun
Zahlentanz 2010
music for flute, Clar., Soprano Sax; hrn; Trp; Perc.; Voice; Vl1; Vl2; Va; Vc; bass
Text: Michael Köhlmeier
Dauer: 10′
UA: 8.5.2010, Feldkirch; Symphonieorchester Vorarlberg, Christoph Eberle
Leitung; Erzähler Michael Köhlmeier
Joni Mitchell – songs 2010
Titles: Blue, Slouching Toward Bethlehem, Cherokee Louise, Love, You Dream Flat Tires, Moon At The Window, Wild Things Run Fast
music for voice, string quartet, bass, piano, electronics
UA: 28.2.2010, Remise Bludenz; Ena, Koehne Quartett, Wolfgang Mitterer
Älter geworden 2010
music for voice, piano, bass
UA: 28.2.2010, Remise Bludenz; Agnes Heginger; Christoph Cech, Peter Herbert.
Skinny legs 2010
music for Saxofon; Trp., Piano, Perc. Git., bass
UA: 27.2.2010, Seestudio, Festspielhaus Bregenz, JOV Vorarberg
bass instinct 2005-10, 70′
music for 6 acoustic basses
Titles: Finale 7:00, Oedipus Suite 9:00, Mi tout le Fourbi 4:27, Verloren 8:00, K4 4:00, Kurz-long 7:00, Filmrequiem 1-8 20:00, wie gut wärs 6:00, Neige Grave 6:00
Villa incognita 2008, 40′
music for oboe, a-sax, t-sax, slide-g,b,p,dr
premiered at the Jazzfestival Saalfelden Aug. 22nd '08
Titles: Chrysanthemum seed, Dickens, Kitsune, Mai pen rai, Make sanuk, Tanuki pla bonga
Thinking out loud 2007, 15′
music for flute, vibraphone, b, p
Im Angedenken Peter Reidel 2007, 60′
music for flute, piano, tp,b-clar,bassoon,accordeon,b
Titles: Calm, Come,Genki, Kurz, Madame, time&tears,Trance,What happened to G?
Quiet Riot 2007, 18′
for flute, clar, bassoon, 2 violin, viola, cello,p,b, drums
premiered at the Komponistenforum Mittersill with the Janus Ensemble directed by Christoph Cech Sept. 09th '07
Amr i bismiki 2006, 20′
for violin, trumpet, sopr-sax,percussion,piano,nay,flute,drums, clar,bassoon,e-b, b,
Killer Time 2004, 16′
for flute, calr, bassoon, violin, 2xviola, cello, bass, percussion
Friendly Fire 2004, 12′
for Tenorsax, acoustic bass, percussion
walking (while singing in my head) 2003, 40′
For strings, woodwinds, piano: graphic score with lots of cues and melodies, partly improvised, lots written.
Premiere performance with extended ensemble plus conducted by the composer, August 2nd 2003, Bregenzer Festspiele
Timeless cello concerto, 2003, 24′
For chamber orchestra with single woodwinds and percussion. Premiere performance with Friedrich Kleinhapl as soloist and the extended ensemble plus conducted by the composer, August 2nd 2003, Bregenzer Festspiele
A,B,C,…. 2003, 40′
For chamber group and one improvising soloist, the alphabet in short musical scenes in random order. Premiere performance with the Janus-ensemble Vienna, directed by Christoph Cech, Ernst Reijseger (cello) was the improvising soloist. Generator-festival, Konzerthaus Vienna, March 7th 2003
Broadway 2002, 6′
or soprano/alto/tenor/bass recorders, 3 players
CD 'broadway' Les Formidables, buzo records Oct. 2002
You're my thrill 2001, 35′
Songs made famous by Billy Holiday set to contemporary chamber music comissioned by the ensemble plus/Austria featuring Christine Tobin (vocals) and Martin Schrack (piano). Songs include: Porgy Solitude Gloomy Sunday Ain't nobody's buisness You're my thrill
ensemble plus is: violin, 2 violas, cello, bass, flute, clarinet, bassoon plus voice and piano
CD 'You're my thrill', label 'between the lines', 2003
Dialogs 2001, 20′
For strings, piano, woodwinds, percussion, recorders and 3 sopranos
commissioned by the Musikschule Bregenz commemorating their 100 year anniverasry, performed by students of this musicschool
Timepiece 2001, 15′
For piano, violin, cello, bass and drums
commissioned by the New Art Ensemble directed by Fuat Kent
B-A-C-H. A chromatic Universe 2000, 50′
songs based on the musical motive B-A-C-H (b-flat, a,c,b-natural) for piano, bass, percussion, b-clarinet and fl-horn/trumpet.
CD 'B-A-C-H. A chromatic universe', label 'between the lines' btl 013, FA 10183-2
with Carol Robinson (b-clar), Ingrid Jensen (tp/Fl-horn), Marc Copland (p), Kenny Wollesen (dr/perc) and Peter Herbert (bass/comp)
fifteen coins 2000/01, 45′
For low strings (bass, cello & viola), percussion and mezzo-soprano music set to Jorge Luis Borges' poem 'fifteen coins'
Broadway 6 p.m. 1999, 1′
Recordings ofÊ 60 street corners on Broadway at 6 p.m. over the course of one year (one second snippets of each one), creating a 1 min. virtual 70 mph trip along Broadway uptwon from Houston to 67th Street.
commissioned by Sulpiz Boisserée for 'Avant Echo'/Geneva
Communications Error 1999, 22′
String quartet, woodwinds, F-Horn and tape
commissioned by the ensemble plus
CD ensemble plus Herbert-Devienne-Rheinberger Werke für Streicher und Bläser Live in der Remise Bludenz ORF Landesstudio Voralrberg
Fragments of a City II 1999, 12′
ull orchestra and tape
commissioned by the Symphonieorchester Vorarlberg directed by Christoph Eberle
Climbing concerto for solo bass and string orchestra, 1999, 25′
concerto for solo bass and string orchestra (5/4/3/3/1/),
3 movements: "The Fall", "A notion on life and death", "old and new horizons"
also available versions for piano/bassand string quartet/bass
commissioned by "Kammerorchester Arpeggione Hohenems", Solist: Francisco Obieta
muhler 1998, 8′
Text: Alexandra Montano 1 soprano, 2 mezzi, acoustic bass
Come 1998, 7′
Text: Alexandra Montano 1 soprano, 2 mezzi
short stories 1997, 17′
Woodwind quintet
commissioned by the quintett.wien
noch unverletzt aber auch schon vom atem bedroht 1997, 65′
Narration opera, Text: Joseph Kopf. Music for 2 basses, 2 percussionists, 2 voices
CD Extraplatte EX 274-2, Rec 1993-1996
with Theo Bleckmann (voc), Skuli Sverrisson (e-bass), Jamey Haddad & Steve Shehan (perc) and Peter Herbert (bass/comp)
100 Y's/why's/wise 1996, 45′
String quartet, acoustic bass, 8-track tape
commissioned by the Raika Bregenz for their 100 year anniversary
Interruptions 1995, 18′
Symphony: strings, 2 flutes, 2 oboes, 2 clarinets, 2 bassoons, 3 French horns, 2 trumpet, 2 trombones, 3 percussionists 1 flute and 1 clarinet off stage
commissioned by the Symphonieorchester Vorarlberg
piano concerto Nr. 1 1995, 25′
Strings, 2 flute, rhythm section, piano solo
commissioned by the summer workshop Neuberg
Difficulties 1994, 22′
2 choirs, templeblocks, tuning forks, 2 percussionists, acoustic bass solo
Unshaven Rooms 1993, 13′
Flute, Bb-clarinet, bassoon, trumpet, French horn, trombone, piano, guitar, 2 percussionists, acoustic bass Soloists: acoustic bass, Bb-clarinet
commissioned by the Camerata Bregenz
Finale 3rd movement 1991, 6′
Choir, rhythm section
commissioned by Spielboden/Dornbirn as part of the 1991 'KunstLos glücklich' event
Mystico 3 1991, 1:35′
a cappella choir
commissioned by Spielboden/Dornbirn as part of the 1991 'KunstLos glücklich' event
Mystico 4 1991, 4′
a cappella choir
commissioned by Spielboden/Dornbirn as part of the 1991 'KunstLos glücklich' event
Alle Partituren sind bei "Aziza Publishing" erschienen und beim Komponisten direkt erhältlich.
Tonträger
ALS KOMPONIST
Trans-Maghreb Bregenzer Festspiele 2014
Nach einer Novelle von Hans Platzgumer
Label: Alesso records ALR1036
Joni
Label: col legno WWE 1CD 30005, 2011
In Four Glass Farm Ensemble
Label: Innova 700, 2008
Peter Herbert Nakes Bass
Label: BUZO Records CD 0508356, 2005
Charming nights Henry Purcell, 12. Grabenfest
'Henry Purcell, what can I say' with the Koehne Quarett & Hannes Loeschel/ David Tronzo/Peter Herbert
Label: ÖBV/GFT 2003
Porträtkonzert Bregenzer Festspiele 2003
Koehne Quartett, Ensemble Plus, Friedrich Kleinhappl, Violoncello
Les Formidables
Broadway: for three recorders 6′
Label: BUZO Records CD 0209331, 2002
Ensemble Plus Communications Error for Nonet and tape, duration 22 minutes
Label: between the lines btl/EFA
YOU'RE MY THRILL Contemporary chamber music set to songsmade famous by Billy Holiday with Christine Tobin – vocals and the ensmemble plus'.
Label: between the lines btl 2003 /EFA 63833-2
Musique humaine music for strings
eter Herbert/Koehne quartet: 'short stories' bass concerto 'climbing' 'things fall apart'
music for strings Release date: June 2003
Label: Aziza Music AZM 1004
bassooka music for basses
Peter Herbert music for 1-16 basses released Oct. 31st 2001
Label: Aziza Music AZM 1003
B-A-C-H, A Chromatic Universe Peter Herbert (composition) – music based on the motive b-a-c-h Peter Herbert (bass), Marc Copland (piano), Ingrid Jensen (trumpet), Carol Robinson (bass-clarinet), Kenny Wollesen (drums)
Label: between the lines btl 013/EFA 10183-2
Aktionstheater Ensemble 2000 music for theater
Label: Aziza Music AZM 1002
noch unverletzt aber auch schon von atem bedroht Peter Herbert (music), Joseph Kopf (lyrics) Skuli Sverrisson (e-bass), Theo Bleckmann (vocals), Jamey Haddad and Steve Shehan (percussion) and Augustin Jagg (narration)
Label: Extraplatte EX 274-2 Rec 1993-1996
Nathan der Weise (soundtrack)
Peter Herbert With Bob Moses and Mordy Ferber
Label: 1992 Millenium Records
King Oedipus and other calamities Peter Herbert With David Liebman
Label: 1993 Millenium Records
ALS KOMPONIST zusammen mit PARTNERN
BASSINSTINCT Gerhard Muthspiel, Herbert Mayr, Georg Breinschmid, Ernst Weissensteiner, Peter Herbert, Tommaso Huber
release date: May 2005
Label: Camerata Tokyio, Katalognr. CM-28089
Segmente Peter Herbert (composition) – music based on the motive b-a-c-h Peter Herbert (baDavid Tronzo (slide guitar), Peter Herbert (bass) (liner notes by Fred Hersch)
Label: Aziza Music AZM 1001
Composition Klaus Gesing/Uli Rennert/Peter Herbert
Label: Extraplatte EX 471-2
Second thoughts on Händel David Tronzo (slide guitar), Peter Madsen (piano), Winfried Hackl (recorder), Peter Herbert (bass)
Label: BUZO Records 0800311
Flauto Unicum The complete Händel Sonatas with Winfried Hackl (recorder), Peter Herbert (bass)
Label: BUZO Records CD 7990292
darkness pursues the butterfly Peter Madsen (piano), Peter Herbert (bass)
Label: PAO Records Rec 7/94
puppet's dance eter Madsen (piano), Peter Herbert (bass)
Label: PAO Records
Liste der Tonträger mit Peter Herbert als Sideman sowie genauere Angabe zu den einzelnen Titeln und Bestellmöglichkeit auf der Homepage
http://peterherbert.at
Texte
Laudatio anlässlich der Kompositionspreisverleihung 2022. Sebastian Hazod, am 3. Oktober 2022.


Als Klangforscher immer neue musikalische Welten öffnen. In: Kultur Zeitschrift für Kultur und Gesellschaft Mai 2022.
Text lesen
Peter Herbert. NAKED BASS Porträt, 2014
Text lesen
Alles in Bewegung und wir mitten drin. Peter Herbert komponiert für KAZ die Oper "Trans-Maghreb". Ingrid Bertel, 2014
Text lesen
Fremd sind wir. Noch fremder jetzt. Ran Arthur inszeniert Peter Herberts "Trans-Maghreb". In: Kultur Zeitschrift für Kultur und Gesellschaft 6/2014
Text lesen
Eingeschlossen im Ungewissen – Peter Herbert komponiert im Auftrag der Bregenzer Festspiele das begehbare Musiktheater "Trans Maghreb". In: Kultur Zeitschrift für Kultur und Gesellschaft 4/2014
Text lesen
Peter Herbert. Ein Porträt. In: music Information center austria, 12.8.2012.
Text lesen
A Tribute to Peter Herbert! – Zu seinem 50. Geburtstag wird Vorarlbergs einziger international erfolgreicher Jazzmusiker umfassend geehrt. Füßl, Peter In: Kultur Zeitschrift für Kultur und Gesellschaft, 1/2010.
Text lesen
Die erstaunlichsten Klänge aus der Kiste zaubern In: Kultur Zeitschrift für Kultur und Gesellschaft, Juni 2006.
Text lesen
Zeitlos, ruhelos und grenzenlos unterwegs. Peter Herbert und seine aktuellen Vorhaben. In: Kultur Zeitschrift für Kultur und Gesellschaft Jg. 18, Mai 2003, Nr. 4, S. 22 – 24.
Text lesen
"Nicht alle Musiker glauben an Gott, aber alle glauben an Johann Sebastian Bach". Peter Herbert beschäftigt sich in seinem neuesten Projekt mit dem Motiv B-A-C-H. In: Kultur Zeitschrift für Kultur und Gesellschaft Jg. 15, Nov. 2000, Nr. 9, S. 28-29.
Text lesen
"Du kannst es nicht genau definieren, aber du erinnerst dich daran". Der Musiker und Komponist Peter Herbert. In: Kultur Zeitschrift für Kultur und Gesellschaft Jg. 14, 1999, Nr. 5, S. 28 – 29
Text lesen
Peter Herbert – "B-A-C-H: A Chromatic Universe" In: Bogner, Frank, Jazzdimensions, 2001.
Text lesen